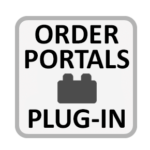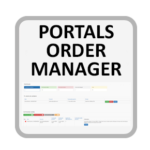 Un module de commande pour Cumulus Portals est certainement l'une des fonctionnalités le plus demandées par les administrateurs Cumulus depuis le lancement de Portals.
Enfin!
Genèse du projet : Depuis le lancement de Cumulus Portals, plusieurs clients m'ont fait part de leurs besoins d'un module de commande pouvant fonctionner dans Cumulus Portals. Nous avons poussé notre réflexion au-delà d'un simple module de commande. Pourquoi ne pas faire un module de commande et un module de gestion et du suivi des commandes. 
En bref; un système développé avec les normes de Canto, simple d'installation et grandement efficace. Utilisant les fonctionnalités des technologies Cumulus. Un Plug-in Portals Order permet à l'utilisateur de passer des commandes via le panier standard de Cumulus Portals et une Interface Portals Order Manager qui permet la gestion et le suivi les commandes reçues pour l'administrateur Cumulus. Le plug-in de commande se déploie dans la console serveur de Cumulus via la configuration CIP pour Cumulus Portals. L'interface de la gestion et du suivi des commandes est un Portals spécifique.
Le plug-in de commande et le module de gestion des commandes fonctionnent autant pour Cumulus Workgroup que pour Cumulus Enterprise.
Uniquement de la technologie Cumulus; rien d'autre!
En moins de deux heures, tout est en place et pleinement fonctionnel!
Un catalogue spécifique Cumulus qui comprend des champs pour les commandes.
Une Webapp qui affiche l'interface des commandes pour la gestion et le suivi de celles-ci.
Un modèle et un thème de courriels qui peut être configuré en fonction de l'organisation.
Des actions de conversion Cumulus utilisées par le module en lien avec les besoins du requérant.
La gestion multicatalogues et la gestion multiadministrateurs est possible dans la configuration.
Comment fonctionne le plug-in :
Lorsque l'utilisateur ajoute des éléments dans le panier ensuite, il clique sur le bouton Panier et accède à fenêtre des éléments qui ont été choisis. Un bouton Commander est disponible (il remplace celui du téléchargement direct). En cliquant sur commande, une fenêtre avec les informations nominatives pour commander comportant des champs obligatoires apparait. Une fois les informations remplies, l'utilisateur doit accepter les conditions et une fois accepter un courriel est expédié à l'utilisateur du résumé de sa commande. En même temps, un courriel est expédié à l'administrateur afin de valider ou non la commande.
Une fois la commande effectuée, elle apparait dans l'interface Portals de la Gestion et le suivi des commandes et peut être validée.
Si la commande est validée et acceptée par l'administrateur, un lien de téléchargement est expédié au demandeur. De cette manière, le Serveur Cumulus prépare le fichier ZIP des fichiers demandé et une fois préparés les fichiers sont téléchargés. On peut limiter la durée du lien de téléchargement ainsi que le nombre de téléchargements des fichiers et ainsi effectuer un suivi plus serré des commandes.
Version disponible du plug-in :
Supportés avec Cumulus Portals 11.1.4 et supérieur.
Prix : Selon les fonctionnalités demandées
Veuillez communiquer avec Paul Dionne

An Order Module for Cumulus Portals is certainly one of the features most requested by Cumulus administrators since the launch of Portals.
Finally!
Genesis of the project: Since the launch of Cumulus Portals, several customers have told me about their needs for an order module that can work in Cumulus Portals. We have pushed more our thinking beyond as a simple order module. Why not make an order module with a module for managing and monitoring orders.
In short; A system, easy to install and which uses the functionalities of Cumulus technologies. A Portals Order Plug-in allows the user to place orders via the standard Cumulus Portals basket and a Portals Order Manager Interface which allows management and monitoring of orders received for the Cumulus administrator. The Order plug-in is deployed in the Cumulus server console via the CIP configuration for Cumulus Portals. The Portals Order Manager Interface can do the monitoring and allow you to be displayed in a specific Portal Interface.
The Order plug-in and the Order Manager Module work as well for Cumulus Workgroup and for Cumulus Enterprise.
Only Cumulus technology; nothing else!
In less than two hours everything is in place and fully functional!
A Cumulus specific catalog which includes fields for orders.
A Webapp which displays the interface of the orders for the management and the follow-up of these.
An email template and theme that can be configured based on the organization.
Cumulus conversion actions used by the module.
Multi-catalog management and multi-administrator management possible in the configuration.
How the plug-in works:
When the user then adds items to the basket, he clicks on the Basket button and accesses the selected items window. An Order button is available (it replaces that of direct download). By clicking on the order, a window with the nominative information for ordering with mandatory fields appears. Once the information is completed, the user must accept the conditions and once accept an email is sent to the user of the summary of his order. At the same time, an email is sent to the administrator to confirm or not the order.
Once the order has been placed, it appears in the Portals interface for management and order tracking and can be validated.
If the order is validated and accepted by the administrator, a download link is sent to the requester. In this way, the Cumulus Server prepares the ZIP file of the requested files and once prepared the files are downloaded. We can limit the duration of the download link as well as the number of downloads of the files and thus perform tighter tracking of orders.
Available version of the plug-in:
Supported with Cumulus Portals 11.1.4 and higher.
Price upon request depends on functionalities:
Please contact Paul Dionne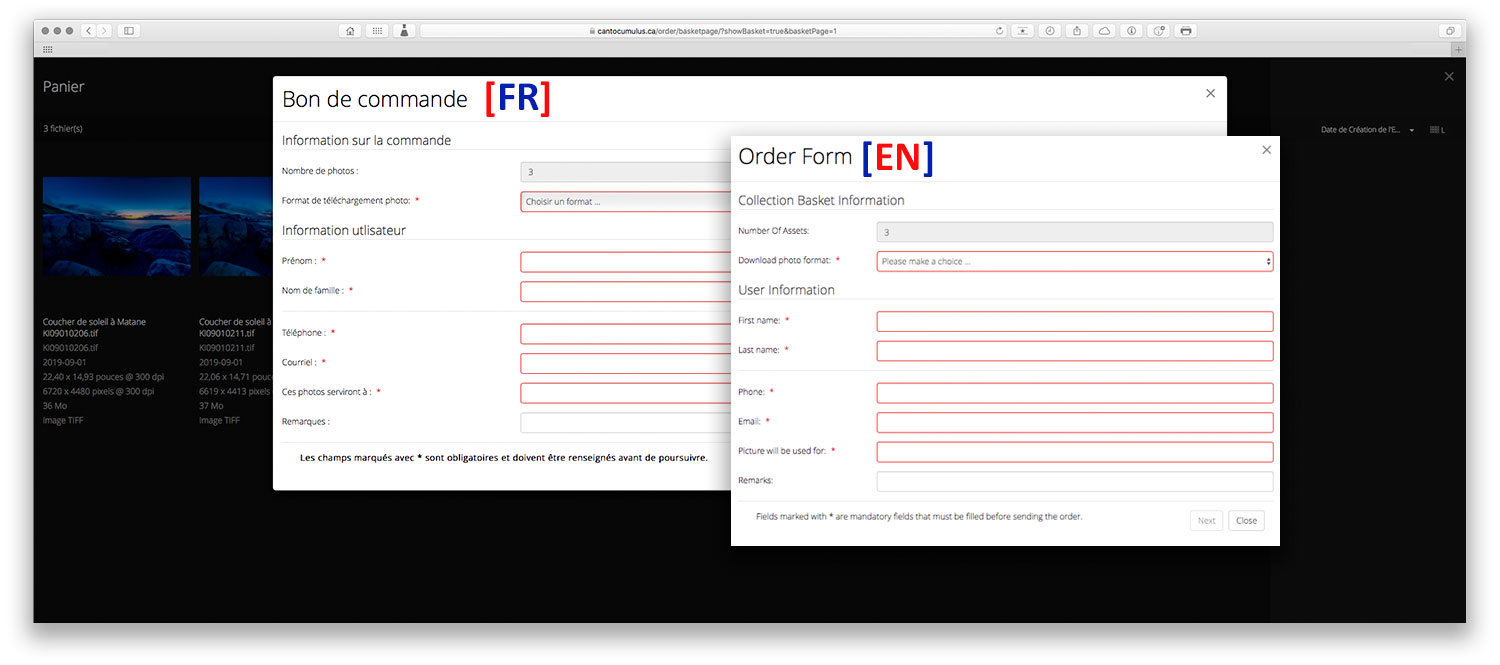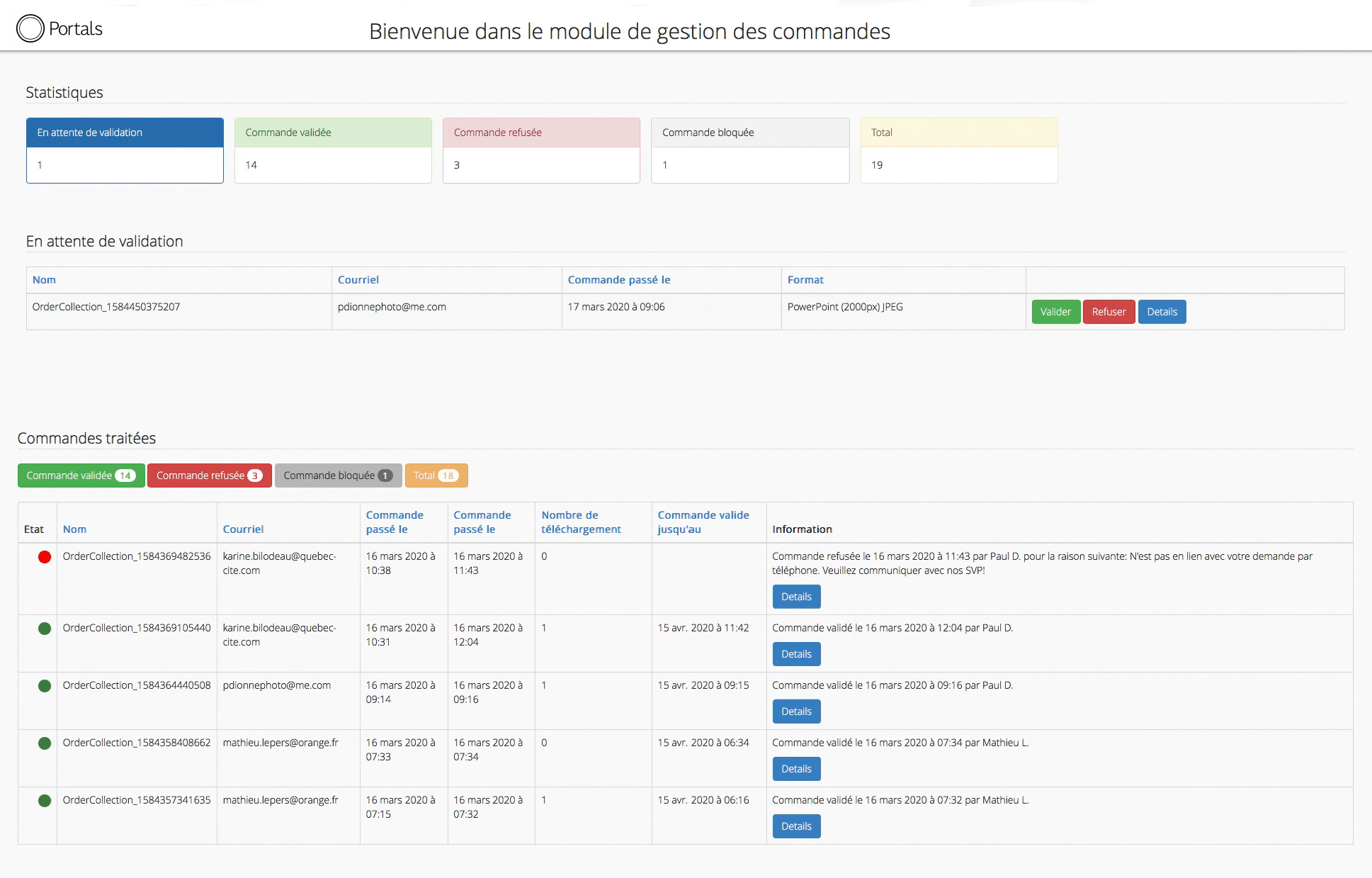 Vidéos montrant en étapes le fonctionnement du plug-in Portals Order.

Videos showing steps by steps the operation of the plug-in Portals Order.

 Ajouter les éléments au panier de Cumulus et affichage des informations du module de commande.

Add items to the Cumulus cart and display information from the Order Module.

 Validation de la commande dans l'interface de gestion du suivi des commandes.

Validation of the order in the Order Manager Interface.

 Envoie des courriels à l'utilisateur et à l'administrateur pour une commande validée.

Sends emails to the user and the administrator for a validated order.

 Envoie du courriel d'approbation avec le lien URL pour le téléchargement

Send approval email with URL link for download